July 17th, 2013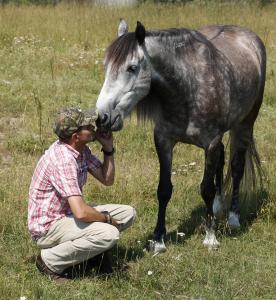 I was recently given the opportunity to spend some time with and photograph Gypsy Blu, a gorgeous wild Mustang mare. At four years old, she was taken from the wild by the BLM along with hundreds of other wild horses. She survived her ordeal, was adopted, and brought to Canada. I got to spend the morning with her out in the paddock and I can honestly say that it was one of the most memorable experiences of my life. A little shy at first, Gypsy eventually allowed me to be a part of her world. Those moments where I was allowed to pet her nose, her ears, and her face, gave proof that I had gained her trust. That was something special indeed. Her owner Adrienne has done such a wonderful job with her and she should be proud! Thank you Adrienne for giving me the opportunity and thank you Gypsy for giving me your trust.
April 7th, 2013
The Salt River wild horses are a herd that frequents the Salt River area and have become quite the attraction. Located about 15 miles from Mesa, these wild horses can be seen feeding and playing on the banks and in the Salt River. I'm SO excited to have the chance to go down and shoot them in May! Stay tuned for images and blog updates on how it goes!
September 22nd, 2012
"The Fort" has been thrilling horse racing fans since 1897 but this was one of my very first trips to this historic track. A much smaller facility than the more modern Woodbine Racetrack, it gives off a sense of history that you can feel as soon as you walk through the doors. The track's infield is filled with flowers and lakes and provides a beautiful backdrop when shooting the races. Almost all of the races are run on the dirt track which runs right up along the rail where race fans can get up close to the horses as they fly down the backstretch pushing hard for the finish line. As a photographer, it makes for some really great shooting! It was such a thrill to have the starting gate pull up a mere 20 feet from where I was standing and it gave me the opportunity to get some stunning "out of the gate" shots.
Sadly, the track is set to close at the end of the 2012 race season. After the government pulled the plug on the Ontario Lottery and Gaming Commission Slots at the track, it's no longer a viable option to stay open. It's not only going to affect hundreds of people who depend on the track for their livelihood, but it puts the lives of the horses that called "The Fort" home at risk.
It's a piece of Canadian history that is going to be missed.